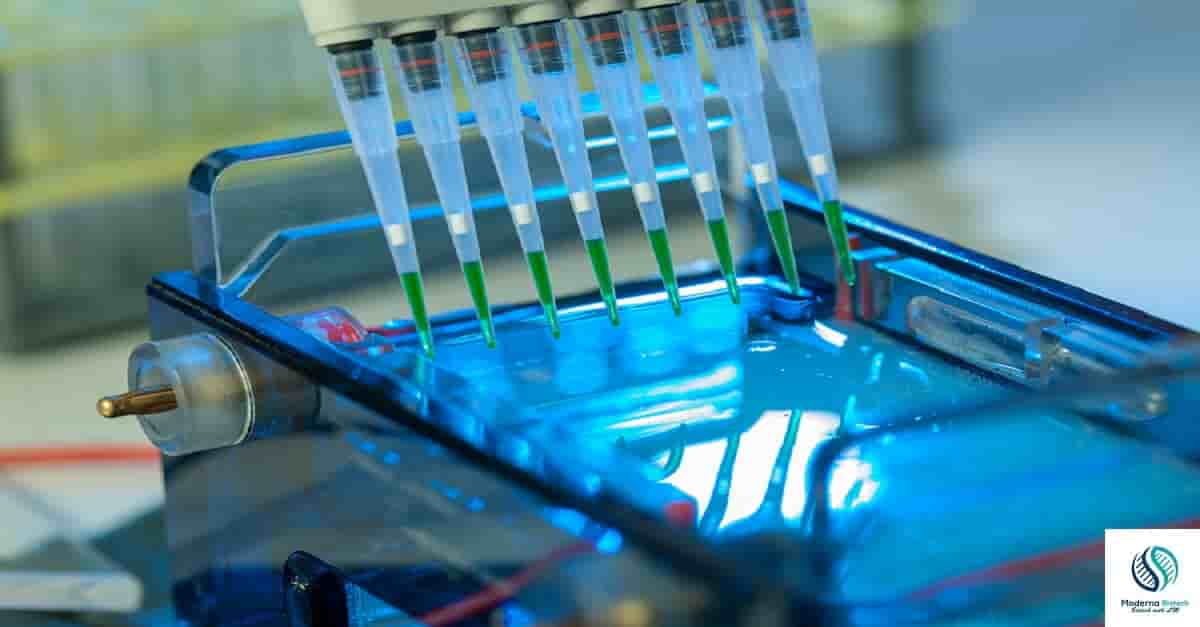 What is Agarose gel electrophoresis?
Agarose Gel electrophoresis is a technique that is used to separated DNA fragments based on sizes. Agarose is used in gel electrophoresis because it makes a good matrix for electrophoresis. Here in this article, you will know what is agarose gel electrophoresis, its principle, procedure, interpretation, and also its applications.
Table of Contents
Principle:
In agarose gel electrophoresis separated DNA fragments on size base in solid support medium. Sample are pipetted into the sample wells followed by the use of an electric current at anode the negative pole which causes negatively charged DNA to migrates towards cathode the positive pole. The migration rate s proportional to the size.
Smaller fragments move more speedily and wind up at the gel's bottom (positive pole).DNA is visualized by ethidium bromide in the gel. DNA fragments take up ethidium bromide as they migrate through the gel. Illumination with ultraviolet light causes ethidium bromide to fluoresce. The larger fragments fluoresce more intensely. So, each single class molecule's fragment is available in equal molar proportions. Smaller fragments involve less mass of DNA take less dye and therefore, show fluoresce less intensely. Some of the bands are thicker in gel electrophoresis, this is because there is more DNA present in them.
A ladder which is a solution of DNA molecules of known sizes could be run simultaneously. And this is used to identify the sizes of other unknown fragments. There are multiple bands in gel electrophoresis because of different sizes and lengths. Moderna Stock: Unleashing the Power of mRNA Technology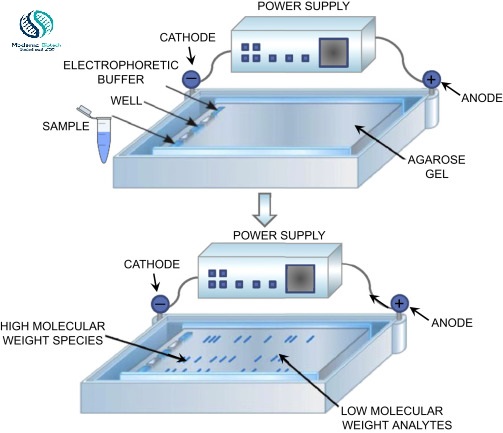 Apparatus and reagents:
Electrophoresis chamber and power supply
Gel casting trays are available in various sizes and made up of UV transparent plastic. Tray open ends are closed with tape while the gel is being cast ten eliminated prior to electrophoresis.
Sample combs around which molten medium is poured to make sample wells in the gel.
Electrophoresis buffer, usually TAE (Tris-acetate-EDTA) or TBE (tris-borate-EDTA).
Loading buffer or loading dye, which includes something dense like glycerol to permit the sample to fall into sample wells and one or two tracking dyes which move in the gel and allow visual monitoring or how far electrophoresis has proceeded.
Staining: DNA molecules are easily visualized under an ultraviolet lamp when electrophoresed in extrinsic fluor ethidium bromide pres
Alternatively, the nucleic acid can be stained after electrophoretic isolation by soaking the gel in ethidium bromide solution. When intercalating to the double-stranded DNA molecule's fluoresce increases greatly. DNA detection is also possible with extrinsic fluor 1-aniline 8-naphthalene sulphonate.
Transilluminator used to visualize stained DNA in gel
Steps involved in gel electrophoresis:
Firstly, To prepare the gel, agarose powder is mixed with electrophoresis Buffer to the desired concentration and heated in a microwave oven to melt it.
The percentage of agarose used depends upon the fragment size to be resolved.
The concentration of agarose is devoted to as an agarose percentage to buffer volume, and agarose gels are generally in the range of 2%-3%.
Lower the agarose concentration faster the DNA fragment's migration.
In general, if the aim is to separate large DNA fragments low agarose concentration should be used and if the aim is to separate small DNA fragments high agarose concentration is suggested.
Secondly, Ethidium bromide is added to the gel to facilitate DNA visualization after electrophoresis.
Thirdly, after cooling the solution at about 60℃ it is poured into a casting tray having sample comb and allowed to solidify at room temperature.
After the gel has solidified the comb is removed taking care not to rip the bottom of wells.
The gel is still in a plastic tray is inserted horizontally into the electrophoresis chamber and is covered with buffer.
Fourthly, Samples having DNA mixed with loading buffer are ten pipetted into the sample wells the lid and power leads are placed on the apparatus and current applied.
The current flow confirmed by observing bubbles coming off the electrodes.
DNA will migrate toward the cathode which is usually colored red in view of its negative charge.
The distance DNA has migrated in the gel can be judged by visually monitoring tracking dye's migration such as Bromophenol blue and xylene cyanol dyes.
Results and its interpretation:
During agarose gel electrophoresis DNA separates on the basis of its size. The bands of the gel electrophoresis could be detected, and then their sequence could be read from the bottom of the gel to the top, counting bands in all four lanes. For example, if the lowest band across all 4 lanes appears in the A reaction lane, then the 1st nucleotide in the sequence is A.
Uses of Agarose Gel electrophoresis
Agarose gel electrophoresis used for size estimation of DNA molecules digested with restriction enzymes like in cloned DNA restriction mapping.
PCR products are analyzed by Agarose gel electrophoreses like in molecular genetic diagnosis or genetic fingerprinting.
Agarose gel electrophoresis used for the separation of DNA fragments for extraction and purification, separation of restricted genomic DNA, and protein separation.
Learn more about Biotechnology