Nutritional value of meat-based and fruit-based fermented foods:
Fermented foods are those foods that have undergone the process of fermentation in controlled microbial growth. There are certain fermented foods available that are meat-based or fruit-based. In this article, you will know about what are the best-fermented foods to eat and how to make these fermented foods.
Table of Contents
Nutritional value of meat-based fermented foods:
Hungarian Salami:
It is a fermented meal, sausage made using pork, pork fat, salt, and various spices. Salami goes through preparatory, fermentation, and drying stages before it is ready.
Salami is mainly meat and also has high protein content and provides 22.6g per 100g. It is also a vitamin B-rich source. This fermented food also contains minerals.
Salami is rich in monosaturated fat, with a lesser amount of saturated fat, and also has small levels of polyunsaturated fat.
The carbohydrate content will be influenced by the weather. The explicit salami uses sugar in the seasoning mix or not.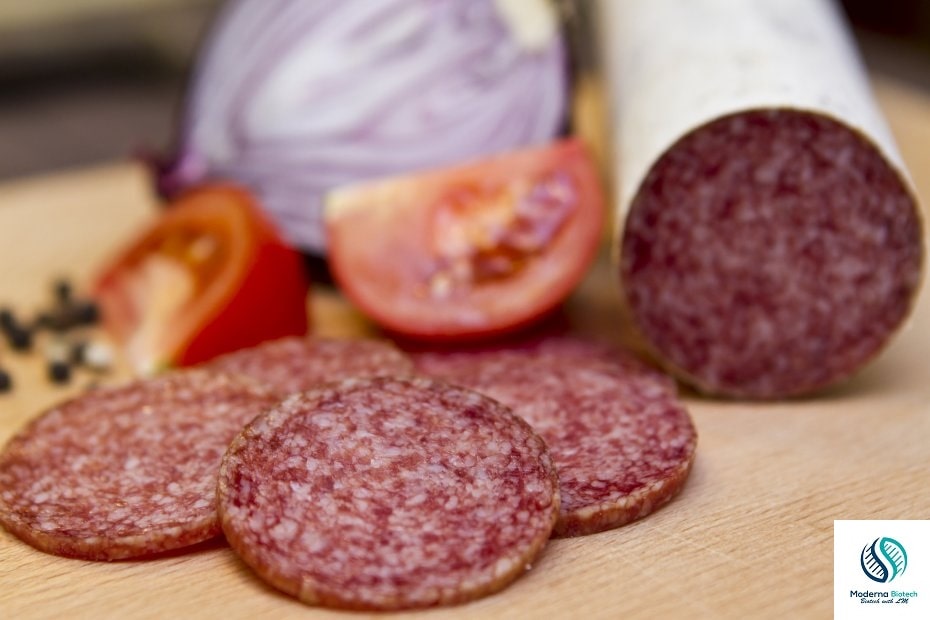 Procedure:
Firstly, Grind through pork meat and fat on a 12 mm plate.
Secondly, Place all ingredients in a spice mill and pulverize them.
Thirdly, Mix in the spice with the meat and fat.
Fourthly, Partially freeze the pork meat and fat.
And then Grind through a 5 mm plate.
Then let it stand overnight in a cold place.
Stuff into beef middles or protein-linked artificial casing, 2 days cold smoke-cured.
And then Dry at 650 F (180C), 75-80% humidity for at least 30 days.
And lastly, Keep in a cool place maximum for 3-4 months.
Kantwurst:
Nutritional value:
Fermentation is a simple as well as an inexpensive method for food preservation. All over the world, there are many different formulations for fermented meat products. In every country with different names and different processes
Kantwurst is a common food in Austria. This is actually a dry sausage.
It leads to a firm texture with mildly acidic and also has a salty taste.
It is ripened for over 4 weeks.
To make a semi-dry version of the sausage, firstly add a total of 1% dextrose and ferment at 240 C (75o F) for 48 hours.
Procedure:
Firstly, Grind the meat and fatback through a 3/16 " plate (5mm)
And then, Mix all ingredients with meat.
Place full sausage flanked by two boards, with a certain weight on the uppermost to flatten the sausage. Then move to a fermentation room.
And then Ferment at 200 C (680F) for 96 hours, 95-90% humidity.
Remove boards and wipe off any slime that might have accumulated under boards.
Dry at room temperature until casings are dry to touch. Hang square-shaped sausage on smokestacks.
Cold smoke (200 C, 680 F) for a few hours to prevent the growth of mold.
Dry for 2 days at 20-180C (68-640F), 90-85% humidity. Apply smoke from time to time.
Dry at 16-120 C (60- 540F), 85-80% humidity. We attain a shrink of 30% in roughly 8 weeks.
And finally, Store sausage at 10-150C (50-590F), <755 humidity.
Chorizo:
Nutritional value:
It is a highly spiced Spanish sausage often flavored with garlic is suitable for eating alone such as egg dishes. Chorizo also contains vitamin B-12. It is, therefore, a good source for thiamine
Chorizo ahumdo which has intermediate moisture had the highest total carbohydrate content (2g/ 100 g), which could be related to the fact that starch is added to increase retention water capacity during cooking.
Chorizo can be made of pork only but a mix of beef and pork is also very common. The freshly made product's fat content is 30 %. We use spices such as paprika (which gives the red color to the product) at fairly high levels
Other spices such as chili (hot or less hot), garlic, and peppers as well as salt(2.5%), nitrate, and ascorbate are part of the product
Chorizo is consumed as Raw, Fried, and also used as Cooked. (What are the best-fermented foods to eat)
Pepperoni:
Nutritional value:
Pepperoni is the most popular pizza topping in the United States of America and also in other UN states.
People consume around 0.25 billion pizza annually and most importantly all these pizzas (about 36%) comes with pepperoni.
It contains calories 698 total fats 64, saturated fat, 24gram, monosaturated fats 29gram, cholesterol 134mg, carbohydrates 1.6%, and also iron 10%.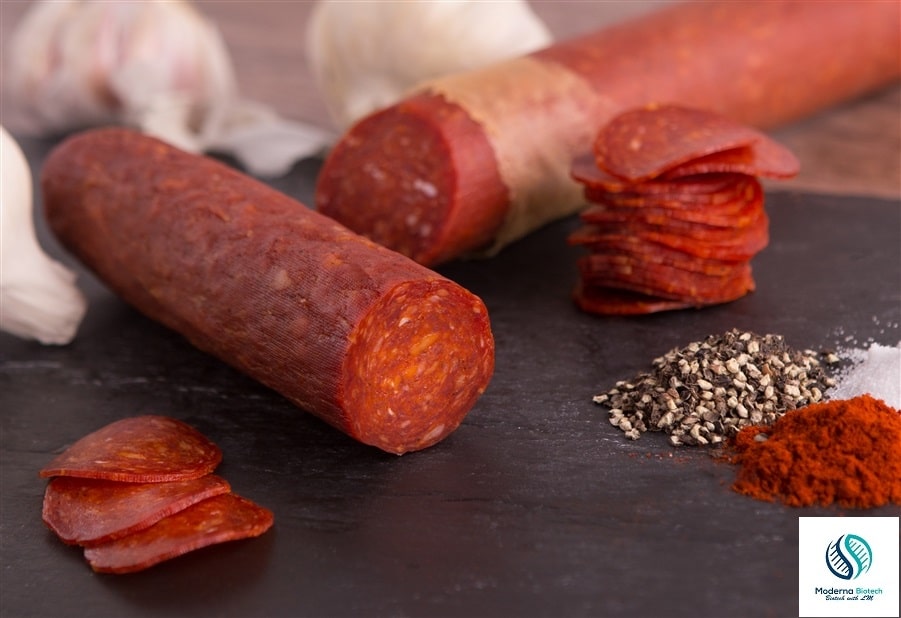 Procedure:
Pepperoni is actually a spicy Italian dry sausage in solid sticks. It is usually made from cured meat of beef and pork. In addition, poultry can also be added for a less expensive version. Pepperoni used for pizza topping can be one inch in diameter. While those typically used in Italian submarine sandwiches are usually twice the size. There are also some pizza shops that use pepperoni in large size to reduce the chances of burning when in the extremely hot pizza oven.
There are three steps involved in making pepperoni including mixing and grinding, casing and cooking, and also aging.
Salchichon: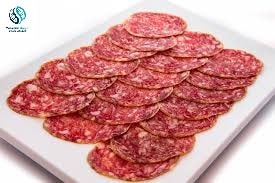 Nutritional value:
Average nutritional values (g/100g) of the product
| | |
| --- | --- |
| Energy value (KJ/Kcal) | 1.843KJ/445Kcal |
| Protein (g) | 26,6g |
| Carbohydrates g of which g | 0g |
| Fat 37,6g Saturated, Monounsaturated, Polyunsaturated | 10,9g22,3g4,4g |
| Dietary fiber( g) | 0g |
| Salt (g) | 3,5 g |
| | |
Fruit-based fermented foods
Khalpi
Nutritional value:
Firstly, It is the traditional vegetable mostly produced in India.
Khalpi is a Lactic acid-based fermented vegetable. It is a fermented cucumber (Cucumis stavius L.). It is commonly consumed by the Brahmin Nepalis in Sikkim.
 Ripened cucumber is mainly cut into appropriate pieces and sun-dried for 2 days. And then put into a bamboo vessel and prepared airtight by casing with dried leaves. It is fermented at room temperature for 3-5 days.
 Khalpi is mainly used as a pickle by the addition of mustard oil, salt, and powdered chilies. It is prepared in September and October.
 Among the food items, fruits and vegetables are easily perishable commodities due to their high water activities and narrative values. These situations are more serious in humid and subtropical countries which allow the growth of spoilage-causing microorganisms. (What are the best-fermented foods to eat)
    Lactic acid fermentation generally raises the shelf life of vegetables and fruits and also improves several beneficial properties, counting nutritive value and flavors, and reduces toxicity. Fermented fruits and vegetables can be employed as a possible source of probiotics because they harbor numerous lactic acid bacteria such as Lactobacillus plantarum, L. pentosus, L. brevis, L. acidophilus, L. fermentum, Leuconostoc fallax, and L. mesenteroides.
Kimchi:
It is a traditional fermented vegetable found in Asian countries. Kimchi is characterized particularly by its sour as well as sweet, and carbohydrate taste.  (What are the best-fermented foods to eat)
It contains various health-promoting components such as β-carotene, chlorophyll, vitamin C, and dietary fiber.
The other name of Kimchi is Kimchee. It is the spicy fermented pickle that invariability accompanies a Korean meal. This vegetable is most commonly used in its preparation are celery cabbage, Chinese turnip, and cucumber. The prepared vegetables are cut, highly tested with red pepper, onion, and garlic. It is fermented in brine in large earthware jars.
It is fermented at low temperatures (2-5C0). Kimchi fermentation is a temperature-dependent process.
Kimchi is very useful for gut health. And it is the best-fermented food for weight loss. It is also effective for probiotics.
Kimchi is not only good for healthy skin but also for healthy hair growth.
Nozawana-Zuke:
Nutritional value:
 Traditionally, the Nowazana-zuke is a low-salt pickled. It is pressurized up to 400 MPAs.
 It is majorly consumed by Japanese people. We can manufacture Nowazana-zuke by lactic acid fermentation after adding various inorganic salts and red pepper. (What are the best-fermented foods to eat)
To extend the shelf life of Nozawana- Zuke, an applied application of high-pressure treatment is operative if the economical use of high pressure is understood.
 It may demage by conventional heat sterilization.
Burong manga (pickled Mangoes):
Nutritional value:
We made this dish by mixing mangoes with water and sugar that have previously been salted.
We have to first boil the mixture of water and sugar. And in the next step, we have to cool them before mixing them with mangoes.
Some varieties add chilies to the cooled sugar-water mixture. We could make Original basic burong manga by using a brine solution.
Procedure:
Firstly, Wash the mangoes carefully in running water of tap.
Secondly, Peel each mango and it into 3 flat pieces, the middle piece would be the outsized, flat seed
Thirdly, Peel the flesh off the side of the seed
Then, Slice up the remaining flesh into, long, fat silvers.
Arrange the fat silvers upright in larger jars
Prepare the brine solution by boiling the water and salt for five minutes and let it cool's.
Pour the brine solution into the jar.
Cover the jar loosely and let it ferment.
After three days, tighten the cap and place the jar in the refrigerator.
Atchara:
Nutritional value
It is a traditional Philippines fermented dish. We make this dish with unripe red-green papaya, fresh raw ginger root, and other raw ingredients in a vinegar base
It contains certain nutrients such as Carbs 6g, dietary fiber, sugar 6g, sodium 30g, vitamin A 2%, Iron 2%.
Procedure
Papaya atchara is actually the Filipino form of pickled green Papaya. We typically eat this alongside fried or grilled foods. I think that chicken
Inasal is best with some papaya on the side, so does grilled liempo.
See also Top 10 most nutritious foods in the world 
Cmovies Free movies – Your Personal Theater for Unlimited Streaming