ELISA is usually employed to identify peptides, hormones, antibodies, and proteins. It finds its use in the fields of biotechnology and medicine as an analytical tool. Here in this article, you will know about the difference between indirect and sandwich ELISA.
What is Elisa's technique?
ELISA also is known as enzyme-linked immunosorbent assay is generally, a plate-based assay procedure that is made for quantifying and sensing soluble substances e.g. peptides, antibodies, proteins, and hormones. This technique is also known as enzyme immunoassay.
Principle of ELISA technique:
ELISA is mainly a technique of targeting antibody or antigen which are captured in samples using specific antigen or antibody and of target molecule detection using an enzyme reaction with its substrate.
Types of ELISA technique:
According to its function, ELISA can be divided into four types
Ø Direct
Ø Indirect
Ø Sand witch
Ø Competitive
Indirect ELISA:
Indirect ELISA is comprised of two binding procedures of the labeled secondary antibody and primary antibody. The primary antibody is incubated with antigen trailed by incubation with secondary antibody. Though this may lead to nonspecific signals for the reason of cross-reaction that the secondary antibody may bring about.
The principle of Indirect ELISA is as follows;
Ø Here micro-well plates are incubated for a specified time with antigens washed up and blocked with BSA.
Ø Then samples with antibodies are added and washed
Ø After, enzyme-linked secondary antibody is added and washed
Ø Then a substrate is added and enzymes on the antibody produce chromogenic or fluorescent signals.


Sandwich ELISA:
Sandwich ELISA is highly capable of sample antigen detection. The sandwich ELISA measures antigens between two layers of antibodies. The antigen to be quantified must have at least two antigenic epitopes that have the ability to bind to the antibody as at least two antibodies act in the sandwich. In the sandwich ELISA system, we can use either monoclonal or polyclonal antibodies to capture and detect antibodies.
The main advantage of Sandwich ELISA is that the sample doesn't need to be purified before analysis.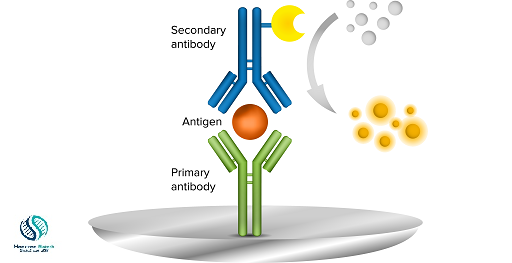 The principle of sandwich ELISA is as follows;
Ø In Sandwich ELISA, the plates are coated with capture antibodies
Ø Then the sample is added and antigen present binds to capture antibody
Ø After, detecting antibody is added and binds to the antigen
Ø Then enzyme-linked secondary antibody is added and binds to detecting antibody
Ø At last, the substrate is then added, and is converted by to detectable form.
Applications of indirect ELISA in the diagnosis of diseases:
Ø Indirect ELISAs have used to diagnose certain autoimmune diseases. Here in Indirect ELISA, autoantibodies produced against self-proteins are identified in the patient's blood sample.
Ø Rheumatoid arthritis is an auto-immune disorder and can be treated with an Indirect ELISA technique.
Ø Indirect ELISA treat Rheumatoid arthritis by following ways
· Immunoglobulin G molecule of rabbit bound to the surface of the microtiter plate and then diluted serum of patient is applied
· If there is a rheumatoid factor is in serum, it binds to the Fc region of molecules of IgG.
· After the step of washing, an anti-RF antibody conjugated to an enzyme is applied for colorimetric detection.
Applications of sandwich ELISA:
Ø Sandwich ELISA is widely used to observe the development and recurrence of ovarian carcinoma and measures the levels of a protein named CA125 (A high molecular weight glycoprotein).
Ø The food and drug administration of the U.S. has permitted the use of HE4 sandwich ELISA to observe the progression and recurrence of ovarian cancer in women who are being treated for the disease
Ø It is used to monitor the recurrence of ovarian cancer in the following ways;
· First samples of the patient are incubated with biotinylated monoclonal antibodies which are generated against one HE4 epitope
· After biotin with MAb-HE4 complex binds with a high affinity to streptavidin that covers the wells of the microtiter plate.
· Then a second antibody is added that binds to different HE4 epitope and after generation of the colored product by horseradish peroxidase, it is conjugated to the antibody
· Then HE4 is quantified spectro-photometrically.